Real Estate
Miami Worldcenter, a New $2 Billion Development Coming in 2015
Miami Worldcenter, a New $2 Billion Development Coming in 2015
Another new multi-billion dollar mega-project called Miami Worldcenter will be rising in the Miami skyline soon.
Just weeks after the City of Miami unanimously approved the zoning package and development agreement for Miami Worldcenter, the project's master development team has outlined an initial construction timeline for its first phase as newly-installed site wraps illustrate the development's new branding and graphic design. With plans for construction preparation in progress, physical site work at Miami Worldcenter is expected to get underway in the first quarter of 2015 with vertical construction slated to begin in mid-2015.
See related story: Miami's Brickell City Centre Signs Saks as Anchor Tenant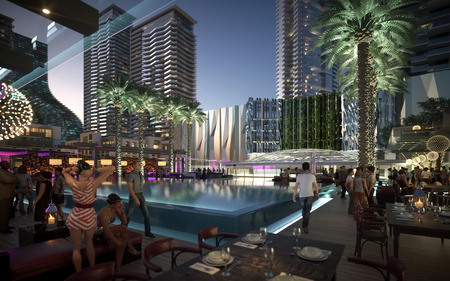 Miami Worldcenter Rooftop
Occupying 27 acres in the heart of downtown Miami, Miami Worldcenter is one of the largest private real estate developments underway in the United States. Phase One of the ten-block project will include world-class retail, residential towers, and an expo center and adjacent hotel that will elevate the underserved neighborhood to destination status. The project is expected to account for $2 billion in new investment within Miami's urban core.
Miami Worldcenter is a collaboration between master developer Miami Worldcenter Associates and a team of best-in-class development, design and engineering firms. The Forbes Company and Taubman will deliver a 765,000 square-foot shopping mall anchored by Bloomingdale's, Macy's and complementary dining and entertainment options.
A diverse mix of residential offerings will account for approximately 1,000 housing units, including luxury residences, boutique condominiums and market-rate apartments. Miami Worldcenter's first residential tower, the 466-unit PARAMOUNT Miami Worldcenter condominium, launched sales in November 2014 and is expected to break ground in the second quarter of 2015.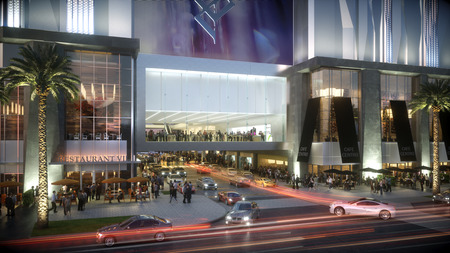 Miami Worldcenter Mall Entrance
Additionally, Miami-based MDM Group will develop a new 54-story, 1,800-room JW Marriott Marquis hotel and expo center set to feature 600,000 square-feet of meeting and event space. Miami Worldcenter's pedestrian-only promenade, including lifestyle and retail offerings, will connect the JW Marriott Marquis to main thoroughfares that lead to the Bayfront to the east. MDM Group expects to begin construction on the hotel and expo center project in the first half of 2015.
Bridging Miami's Central Business District with its fast-growing Arts & Entertainment District, Miami Worldcenter will breathe new life into some of the City's most underutilized blocks while enhancing neighborhood connectivity and creating new links to public transit. Modifications to area streets and expanded sidewalks will improve pedestrian and vehicle flow between Biscayne Bay, Museum Park and American Airlines Arena and points west, including Overtown and the Miami River. Direct links to the new All Aboard Florida high speed rail terminal, now under construction, and the existing Miami-Dade Metromover system will encourage the use of mass transit.