Versace Mansion: 20 Amazing Facts About Gianni Versace's Casa Casuarina, Heading To Auction (PHOTOS, VIDEO)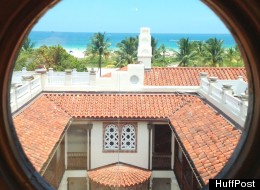 The three-story villa is an opulent and private oasis in the heart of South Beach. When Versace bought the place over 20 years ago, the Miami Beach neighborhood was nothing but a smattering of fledgling clubs and modeling agencies as well as the home to an aging population of snowbirds.
After Versace's death, the house was converted to a private invitation-only membership club with fees of $50,000 and then used as an event space and hotel.
Here are some of the more interesting facts about the Versace mansion:
2. It is the only private residence on busy Ocean Drive.
7. Versace spent $33 million in renovations, then threw some fabulous parties.
8. Here's the master bedroom when Versace lived there; the room now houses a very large double-king-sized bed: