Senators' Immigration Reform Plans Revealed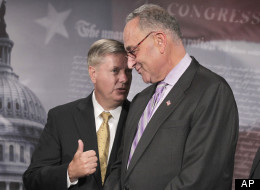 WASHINGTON -- A bipartisan working group in the Senatewill publicly unveil its immigration reform framework on Monday. The text, though, is already out, in a five-page document that lays out basic principles for reform.
Read the full text below.
The news of a deal came out late on Sunday, and the senators plan to unveil their framework more publicly later in the day on Monday. Four members from each party -- Democratic Sens. Chuck Schumer of New York, Dick Durbin of Illinois, Bob Menendez of New Jersey and Michael Bennet of Colorado, plus Republican Sens. Lindsey Graham of South Carolina, Marco Rubio of Florida, John McCain of Arizona and Jeff Flake of Arizona -- worked together on the deal.
They plan to come out with a bill sometime in March, after further negotiations on exact language. Michael Steel, a spokesman for House Speaker John Boehner (R-Ohio), said, "The Speaker welcomes the work of leaders like Sen. Rubio on this issue, and is looking forward to learning more about the proposal in the coming days."
Here are the six most interesting, and important, elements.
There would be a pathway to citizenship.
Allowing some of the estimated 11 million undocumented immigrants already living in the country to earn citizenship, in a different system than the current one, has been deemed absolutely vital to President Barack Obama, Democratic lawmakers and Republicans in the "gang of eight." Support from Rubio is particularly significant. He was not an original member of the "gang of eight" -- he seems to have replaced Sen. Mike Lee (R-Utah) -- and previously floated his own ideas that, though vague, would not have given any special road to citizenship. He even claimed as recently as last week that Democrats could tank any legislation by insisting on it.
The fact that Rubio was willing to change his mind on citizenship, then, gives advocates hope that other Republicans will also support that type of pathway.