America's Coolest Coffeehouses (PHOTOS)
Blame
Seattle
. A certain coffee shop chain started there four decades ago and changed the way Americans thought about coffee. Dried-out coffee flakes sold in tin cans were out. Highly polished European contraptions that hissed noisily and sent forth geysers of steam were in.
Despite, or perhaps because of, the rapid expansion of Starbucks and other standardized chains, small coffeehouses are flourishing. Americans are increasingly educated about their coffee and evaluate these independents with chains as a benchmark: is the coffee better or more interesting? Is the environment more appealing? Does it have an engaged clientele, or is it a generic "coffeeworld" where you get your cup to go, head bowed?
Coffeehouses
that meet the criteria for cool each stand out from the crowd and attract us for diverse reasons. Travelers have an extra appreciation for a neighborhood coffeehouse with personality -- the last thing you want to drink on vacation is your workday cup of joe. We pop in to refuel after hours of pounding the pavement, but also to sample regional brews, people-watch, and find out about local goings-on.
Coffee: it's the best legal drug. We know because the right cup in the right place can change your reality.
--Wayne Curtis
The Roasting Plant: New York City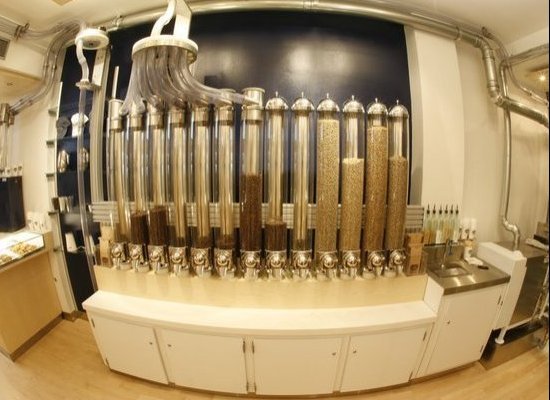 This shop strives to shrink time--between roasting, grinding, brewing, and drinking--and brews your beans on demand. Mike Caswell, a onetime Starbucks employee, spent five years developing the cutting-edge technology. Leave enough time to scope out the Javabot, which involves Jules Verne-ish tubes shuttling coffee beans from bin to cup.
See more of America's Coolest Coffeehouses
Photo: Courtesy of The Roasting Plant
source: Huffingtonpost