Report: Singer Amy Winehouse found dead
STORY HIGHLIGHTS
NEW: The death is "unexplained," police say
Winehouse canceled a European tour last month after being booed off stage
The singer-songwriter left a rehab program in early June
She rose to fame in 2007 with her hit "Rehab"
London (CNN)
-- Singer Amy Winehouse, infamous for erratic public behavior, arrests and drug problems, was found dead at her apartment in London Saturday, the UK Press Association reported. She was 27.
Her death came less than two months after her latest release from a rehabilitation program and weeks following a disastrous performance where she was booed off a Belgrade stage by disappointed Serbian fans.
Winehouse died at the same age as four other music legends. Jimi Hendrix, Janis Joplin and Jim Morrison each died of drug overdoses when they were 27. Kurt Cobain was 27 when he committed suicide, soon after his release from rehab.
Police called the death "unexplained" early in their investigation.
iReport: Your thoughts on Amy Winehouse
London police said they were called to a home, which matches Winehouse's address, Saturday afternoon in response to "a woman found deceased."
"On arrival officers found the body of a 27-year-old female who was pronounced dead at the scene," a police statement said.
The "Rehab" singer had a history of battling drugs and alcohol and recently left a British rehab program that a representative said was intended to prepare her for scheduled European concerts.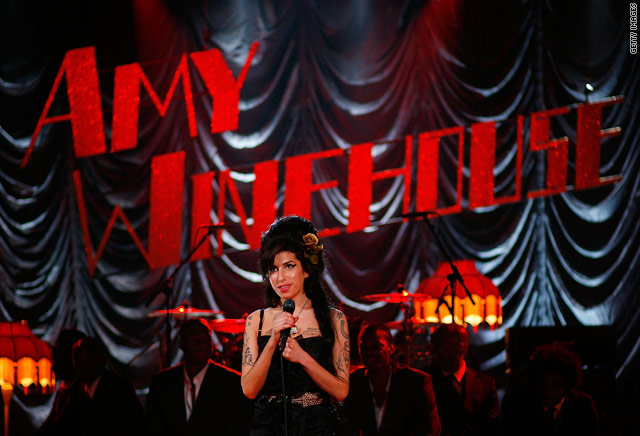 Gallery: Amy Winehouse dies at 27
Amy Winehouse's last performance
But she cut short the European concert tour last month following a concert in Belgrade, Serbia, where she staggered around the stage and stumbled through several songs.
Audience members booed Winehouse off the stage that night just a few songs into the concert, the first of the tour.
Winehouse spokeswoman Tracey Miller told CNN at the time that the singer "agreed with management that she cannot perform to the best of her ability and will return home."
Music stars who died at the age of 27
"Everyone involved wishes to do everything they can to help her return to her best and she will be given as long as it takes for this to happen," representative Chris Goodman said in a statement in May.
A new, but almost identical, similar statement appeared on her website Saturday, saying "Amy Winehouse is withdrawing from all scheduled performances." None of her representatives immediately responded to CNN requests for comment.
Winehouse's soulful, throaty vocals brought the British musician stardom in 2007, but her off-stage life gained her notoriety. The lyrics of her songs, especially the hit "Rehab," chronicled her troubled life.
The song, in which she sang "They tried to make me go to rehab, I said no, no, no," helped form the public's view of Winehouse.
"I don't care enough about what people think of me to conform to anything," she said in a CNN interview.
Winehouse, born in London in 1983, became a picture of a tattooed teenage rebel after she was expelled from a prestigious performing arts school.
Her first album, "Frank," debuted in 2003, when the singer-songwriter was 19.
International success came with her 2007 album "Back To Black," winner of best pop vocal album and album of the year Grammys in 2008. The single "Rehab" won Grammys for record of the year and song of the year.
Winehouse's volatile marriage to Blake Fielder-Civil took a toll on the singer's career. The couple divorced in 2009 after a stormy two years filled by drug addiction and arrests.
Winehouse's parents went public with their efforts to help their daughter, telling the London Telegraph in 2009 that she was on the road to recovery.
"A gradual recovery, which is good," Winehouse's father Mitch told the Telegraph. "With slight backward steps -- not drug backward steps, more drink backward steps if you follow my drift. I think that will be the pattern of recovery."
source: CNN