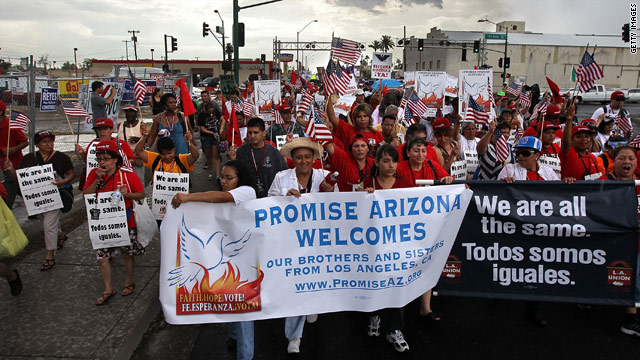 March 18th, 2011
09:51 AM ET
Arizona Senate defeats controversial birthright measures
(CNN) - A series of hot-button immigration bills in Arizona that in part proposed stripping citizenship rights of children of illegal immigrants went down in defeat Thursday, averting for now a legal showdown that would likely have reached the Supreme Court.
A divided state Senate voted against a string of proposals that aimed to deny citizenship rights to children of illegal immigrants born in the United States, prevent illegal immigrants from acquiring drivers' licenses, and require schools and hospitals to check the legal status of students and patients before offering services.

Specific portions of the measures – including a ban on citizenship and access to schools for children of illegal immigrants - appear to expressly conflict with previous Supreme Court rulings and were drafted in hopes the high court would reconsider its decades-old holdings in that area of law. The Court categorically ruled more than a hundred years ago that birth within the United States triggered citizenship even if the parents were in the country illegally. Thirty years ago, the Court also struck down a Texas law that sought to deny public education to children of illegal immigrants.
Some of the most controversial measures were drafted by state Senate President Russell Pearce, a former sheriff who has long aimed to crack down on illegal immigration in his state and is mulling a congressional bid.
"Arizona supports these laws. They expect us to stand up and do what's right," Pearce said after the bills' defeat. "It's about time we recognize who we work for."
The future of the measures remain unclear, but it's possible similar proposals could be presented to voters as referendums in the next election. Arizona Gov. Jan Brewer, a noted illegal immigration opponent herself, stopped short of expressing full fledged support for the measures while they were being considered.
Arizona become ground-zero for illegal immigration laws last year after Brewer signed a bill that requires police in the state to determine whether a person is in the country legally. Critics maintained the law fosters racial profiling but supporters argued it was the most effective way to crack down on the difficult issue that has plagued Arizona more than most any other state. The most controversial portions of that bill are currently being challenged in court.