Read More:
Mark Zuckerberg
,
Mark Zuckerberg Obama
,
Obama
,
Steve Jobs
,
Technology News
Via the
White House Flickr photostream
come photos of President Obama's buzzed-about dinner with tech leaders Thursday evening.
The guest list (see below) included tech luminaries such as Apple CEO Steve Jobs, Facebook CEO Mark Zuckerberg, and outgoing Google CEO Eric Schmidt.
One photo of the dinner offers a glimpse into the seating arrangement for the evening, as well as of Jobs, who is currently on medical leave. Notably, Jobs and Zuckerberg were seated directly to Obama's left and right, respectively. Jobs donned his trademark black turtleneck, while others in attendance opted for suits and ties.
A White House official
described
the meeting as "part of our ongoing dialogue with the business community on how we can work together to win the future, strengthen our economy, support entrepreneurship, increasing our exports, and get the American people back to work," noting prior to the event, "The President and the business leaders will discuss our shared goal of promoting American innovation, and discuss his commitment to new investments in research and development, education and clean energy."
See the photos below, followed by the guest list.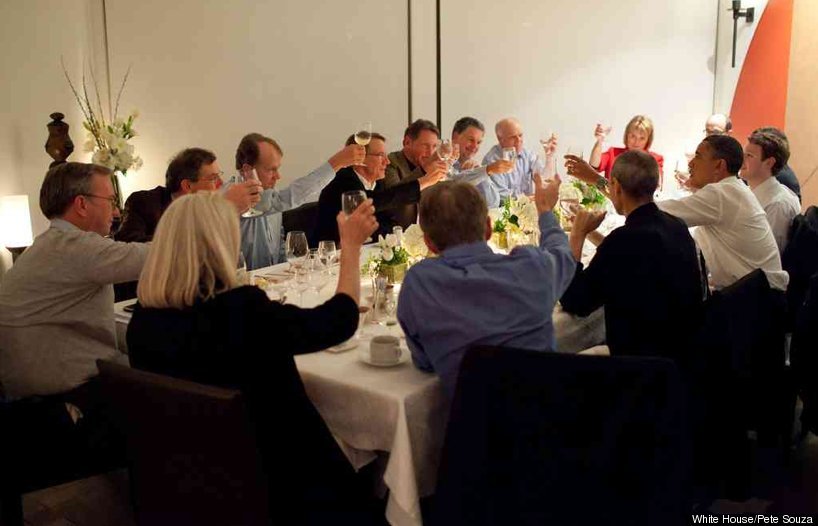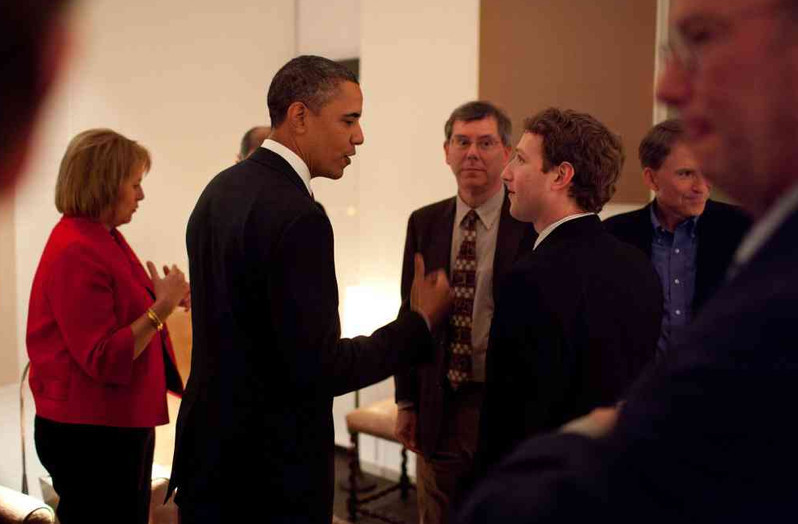 Image credit: Official White House Photo by Pete Souza
The official guest list (via the
LA Times
)
John Doerr, partner, Kleiner Perkins Caufield & Byers
Carol Bartz, president and CEO, Yahoo!
John Chambers, CEO and chairman, Cisco Systems
Dick Costolo, CEO, Twitter
Larry Ellison, co-founder and CEO, Oracle
Reed Hastings, CEO, NetFlix
John Hennessy, president, Stanford University
Steve Jobs, chairman and CEO, Apple
Art Levinson, chairman and former CEO, Genentech
Eric Schmidt, chairman and CEO, Google
Steve Westly, managing partner and founder, Westly Group
Mark Zuckerberg, founder, president and CEO, Facebook
(CNN)
-- A photo released by the White House on Friday shows Apple CEO Steve Jobs, along with other tech luminaries, raising a toast with President Barack Obama at a dinner Thursday night in San Francisco.
The photo,
of a private dinner during the President's visit to California
, comes as tabloid reports, some featuring alleged photos of Jobs, have questioned the Apple leader's health.
In the photo, Jobs and Facebook CEO Mark Zuckerberg flank Obama during the toast. Wearing his trademark black mock turtleneck shirt, Jobs is photographed from behind.
Jobs was diagnosed with cancer in 2003. He took a six-month leave of absence in 2009, during which he was reported to have had a liver transplant.
He began an indefinite medical leave of absence on January 17.
This week, a supermarket tabloid and a gossip website ran unconfirmed reports suggesting that his health was declining.
Neither Apple nor Jobs, or anyone directly familiar with his health care, have commented publicly on the reason for his leave or the most recent rumors.
Jobs had kept a low profile since
unveiling a new line of MacBook laptops in October.
Obama's meeting with the tech luminaries
was intended to discuss innovation and spurring job growth.
Also worth noting: Zuckerberg appears to have shed his go-to hooded sweatshirt look for his dinner with the leader of the free world.