Five unforgettable hotel bathtubs
November 8, 2010 7:43 a.m. EST
STORY HIGHLIGHTS
Many hotels differentiate themselves with bathtubs that offer stunning views
Hand-beaten copper tub in Bali, Indonesia, resort lets bathers stare at Mount Batu Kau
Granite bath in Tokyo, Japan, hotel has steam-proof TV and city views
Check out other great destinations and travel tips at Five To Go
(CNNGo)
-- Bathing can be so much more than a mindless chore. Travelers looking to clean up will find that blowing bubbles in these tubs is definitely not kid's stuff.
Lagoon Bungalows, Huvafen Fushi (Maldives)
From this Indian Ocean-facing basin built for two, above, you can see schools of flying fish and the occasional snorkeler break the surface. Guests also have the opportunity to dunk with resident baby sharks and sting rays (body parts are of of no interest to these tuna-eating flesh seekers).
Price: $1,400 per night
Website:
Huvafen Fushi
Afrika House, Bambu Indah (Bali, Indonesia)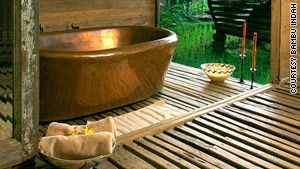 Bathers get an excellent view of Ayung River Valley from inside this heavily hand-beaten copper tub -- which is entirely exposed to the elements.
Recycled wood was used to construct the open-air bathroom attached to this re-purposed 19th century Javanese prince's house. Not that most bathers will have saving the world on their minds as they stare at Mount Batu Kau on the horizon.
Price: $260 per night
Website:
Bambu Indah
Check out other great destinations and tips at Five To Go
Hibiya Suite, The Peninsula Tokyo (Tokyo, Japan)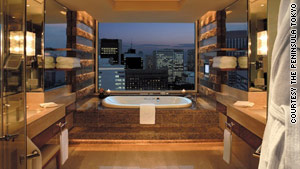 That steam-proof 15-inch TV at one end of this ceramic soaker with city views can't be getting much play when there's so much more fun to be had by pressing the spa button instead.
Guests probably aren't spending $12,000 a night just to watch the "Jersey Shore" in the bath. Or maybe they are. More power to them.
Everything is within reach will while soaking in the granite bath designed to engorge itself onto the surrounding marble floor, Japanese
onsen
style.
Price: $12,000 per night
Website:
The Peninsula
Studios, Upper House (Hong Kong)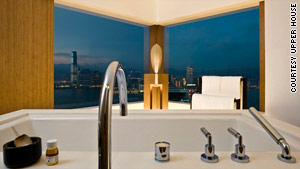 For those who like their cleansing a little festive, this over-sized tub inside a stark white stone bathroom is elevated for maximum exposure to Hong Kong's Symphony of Lights, the urban illumination at 8 p.m. every night.
Culture nuts may be curious about the room's central artwork called Cocoon.
Others will want to do just that under water in the shadow of Victoria Harbour or views of Peak Hill.
Price: $387 per night
Website:
Upper House
One Bedroom Villas, The Nam Hai (Hoi An, Vietnam)

Baths at the Nam Hai come clad in a patchwork of pressed eggshell. This slippery surface is all the better for slipping into the sunken indoor spot hidden behind the day bed.
There's not much of a view, but that just leaves more room for your imagination.
Price: $450 per night
Website:
Nam Hai
source: CNN
Live and Work in USA! Apply for Green Card >
http://DV-US.com