Foreclosure inn: Luxury hotels default
Missed loans payments are on the rise, but what is hurting hotels is good for consumers as owners slash room rates by as much as 12%.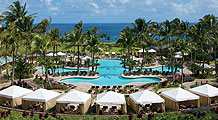 Luxury hotels are defaulting on their loans as the economy kills off business travel. But what is ailing the hotel industry is good for consumers as room rates fall.
NEW YORK (CNNMoney.com) -- There's plenty of room at the inn. So much, in fact, that many high-end hoteliers are bleeding cash and defaulting on their loans.
"The industry is clearly in a downturn," said John Fox, a vice president with PKF Consulting, an advisor to the hotel industry. "It's across the board with the luxury end of the business hit a little harder than the moderate end."
The epicenter of this default plague is California, with the number of hotels in default jumping 125% during a two month period ending in June, according to Atlas Hospitality, a commercial real estate broker.
The Four Seasons, a five-star hotel in the heart of San Francisco was the latest casualty. In early July it defaulted on a $90 million loan. Before that, the four-star Renaissance Stanford Court Hotel on Nob Hill went into receivership after defaulting on an $89 million loan.
The owners of the upscale W Hotel in San Diego failed to make the mortgage payment in June. The St. Regis Monarch Beach Resort outside Los Angeles -- notorious for hosting AIG Group executives almost immediately after the company received a federal bail out -- defaulted on a $70 million loan in June.
But California isn't the only place facing high-level defaults. Fitch Ratings reported that 13 hotel loans worth $596 million went delinquent in June. Three hotels in Phoenix, Las Vegas and New York City account for a majority of that amount.
Defaults of convenience
The defaults do not always result in foreclosure or sale of the business; at times, defaults are used tactically to force concessions from lenders. "[Often] there has to be a default before the terms of the loan can be renegotiated," he said. "And the loan is a lot higher than the property is worth."
That means that some of the defaulting properties, such as the Four Seasons, are in little danger of shuttering; their owners just want to force their lenders to make the terms of their loans a bit more attractive.
And even if some of the owners do lose their properties, the lenders will undoubtedly resell many of the hotels at prices low enough for the new owners to operate at a profit
There's no doubt, however, that the hotel business has slowed. PKF has revised its occupancy rate forecast for the year downward to 55.4% for the year from a forecast of 57.6% back in December.
"Essential travel is strong," said DeAnne Dale, global sales and account management vice president for Travels Business. "But non-essential travel has decreased a lot."
It's not just a decline in travel that's driving those occupancy rates down. Lots of new hotels, planned during the boom years, have opened recently, increasing the supply of hotels rooms by 3%. That puts additional pressure on management to discount prices.
And it's one reason why Smith Travel Research, which provides data to the hotel industry, revised its revenue forecast last week; it's now predicting a decline in revenue per available room of 17.1% for 2009.
Their pain, your gain
Hotels have slashed room prices to attract business customers, with luxury lodgings offering the biggest discounts. According to Smith, the average daily rate for a luxury hotel room fell 12.1% to $253.71 this year through May compared with all of 2008.
The average rate for the next level of hotel rooms, the upper upscale, dropped 7.8% to $147.60; upscale rooms fell 7.3% to $110.89; and budget and mid-scale rooms both dropped about 7%.
That has turned industry profits to losses, according to Sageworks Inc., which offers financial analysis to many different industries. It reports that publicly traded lodging companies have compiled net losses equal to 0.78% of revenue over the past 12 months. In 2006, by contrast, net profit margins were 7.69%.
Privately held hotel companies have done better during the slump. Their net margins only decreased from 5.41% in 2007 to 3.63% during the past 12 months. "Privately held hotels can be more flexible and can accommodate change more efficiently," said Jackie Peluso, a spokeswoman for Sageworks.
Many hotels have been keeping their rooms filled by slashing prices for corporate partners, according to Travels' Dale. Vacationers are also saving as hotels discount rooms. That's apparently encouraging leisure travelers to not give up holiday plans this summer, according to Travels.

source: cnn money